About
Robin Aronson
About the Artist
I create jewelry from colorful metals. These include lightweight anodized aluminum and color-plated or powder-coated brass and steel.
I have worked with many jewelry-related mediums over the years including precious metals and gemstone setting, polymer clay, glass fusing and lampwork, and metal clay. I have Art Clay Silver Senior Certification and PMC Level II certifications.
I fell in love with anodized aluminum right from the beginning because of all of the vibrant color possibilities. I like the way the bright colors make people feel happy. Although I worked with many other mediums along the way, I always returned to the colorful metal.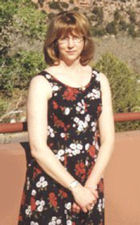 After spending a number of years in the computer field, I was able to concentrate on art beginning in the year 2000, when this picture was taken.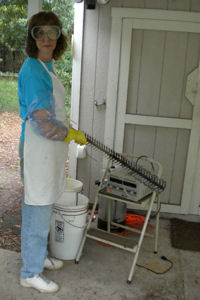 Aluminum is anodized by immersing it in a conductive solution and applying current, which builds an oxide layer on the surface of the metal. The new layer is strong and porous and able to absorb color. Color is applied in many different ways, including immersing the metal in a dye solution, hand-painting, or using imprinting or silkscreen techniques.
In the picture on the left, I am removing a batch of components from the conductive solution after anodizing them. Great care must be taken when working with the solutions and electrical current. Prior to the actual anodizing process, the metal goes through several other tanks to strip old color, de-grease, and de-oxidize. Then the anodizing takes around 45 minutes. After coloring the metal, it will be steamed for an hour to seal in the color.
I also work with other metals including recycled brass and steel, which I color using different methods including color-electroplating, dye sublimation or powder coating. Also, niobium and titanium, two other metals that can be colored by anodizing, although the process is different from anodizing aluminum.
I texture the metal, and then cut out shapes with a jewelers saw or with dies that I have designed. I form the metal shapes and then connect layers of metal with tiny rivets, since aluminum can't be soldered after it is anodized. I handcraft each piece individually, and the bulk of my work is one-of-a-kind or limited edition. I add other elements such as gemstones and polymer clay.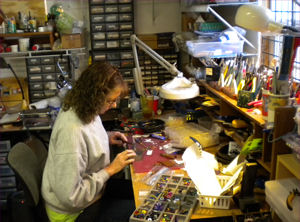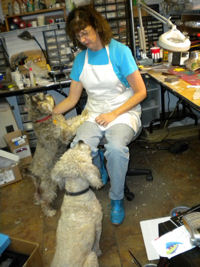 We live in Jacksonville, Florida, where I grew up and lived most of my life. I have a detached home studio, where I spend most of my day. Reilly and Ziggy, my two studio pups, come in periodically to check on me and make sure I'm working hard.
My husband Bob and I travel in our camper to art shows in the southeast, and in the midwest in the summer. I have a studio set up in the camper so I can work on the road.